Sedation Dentistry
Nitrous Oxide and Full Sedation
Winning Smiles Adult Dentistry offers sedation dentistry (sometimes called "sleep dentistry") to patients who might feel nervous about visiting the dentist or who need a number of dental procedures in one sitting. Dental sedation is available at our locations in Amherst and Orchard Park.
Our doctors are dedicated to delivering exceptional care to high-anxiety patients. Our sedation doctors have received additional education on sedation at the university level and are New York State-certified to provide sedation dentistry. Our goal is to provide safe dental sedation that makes your appointment anxiety-free. Call (716) 332-2444 to make your appointment!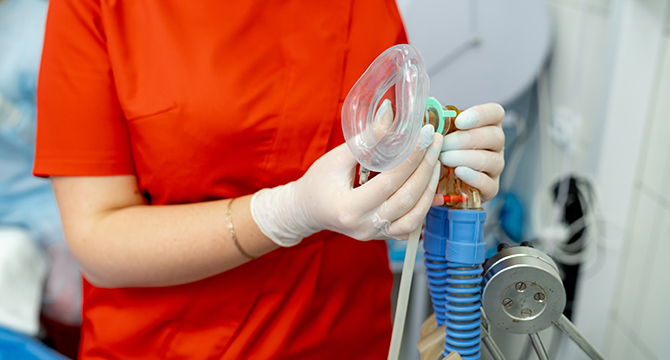 Nitrous Oxide
(Laughing Gas)
Nitrous Oxide, also known as laughing gas, is available to all our patients who request it. We feel that nitrous can help make dental visits more enjoyable and tolerable for those anxious about dental treatment. Nitrous Oxide gas allows patients to drive themselves to and from their appointments.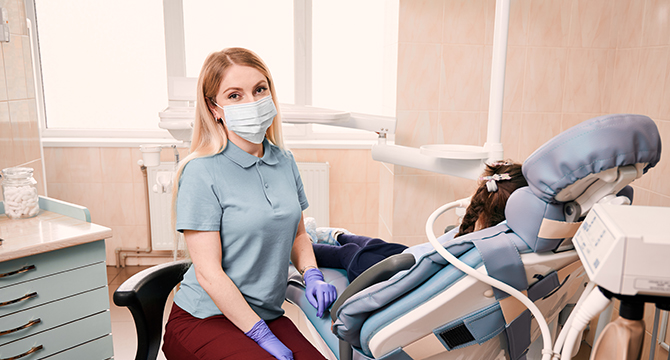 FULL SEDATION
(Oral)
Full oral sedation uses stronger and longer lasting medication than light sedation. The medication is taken approximately one hour before the patients appointment, and when the patient arrives, more can be given if needed, once the dentists have fully assessed the sedation level of the patient. Full sedation is wonderful for patients who are having a number of dental procedures done at one appointment, and for those who may be in the dentists chair for several hours receiving treatment.
WHAT MAKE IN-OFFICE GENERAL ANESTHESIA DIFFERENT THAN A HOSPITAL VISIT?
Much like the surgery offered to our patients at Women and Children's Hospital, dental procedures performed in-office under general anesthesia can be accomplished by Winning Smiles doctors. Unlike a hospital visit, you will be greeted by Winning Smiles staff when you walk through the door, and Winning Smiles clinical team members will assist in the procedure, as opposed to unfamiliar individuals employed by the hospital.
At Winning Smiles, Dr. Steve Nguyen administers anesthesia to only one patient at the time, closely monitoring vital signals as the dentist carries out the dental procedures. Dr. Nguyen, along with a team of assistants, remain with you in the treatment room through the entire duration of the procedure.
Our patients and their families enjoy the efficiency of in-office general anesthesia, cutting out hours of hospital wait time, and arriving to a comfortable and familiar environment. Additionally, because the anesthetic is inhaled through the respiratory system, the patient wakes up within minutes of the dental treatment when all of the anesthetic is exhaled from the body.
WHICH PATIENTS BENEFIT MOST FROM GENERAL ANESTHESIA?
Children, patients with a great deal of fear and anxiety, patients with special needs, and those requiring a great deal of treatment often benefit from full sedation dentistry under general anesthesia. This method allows the patient to complete treatment unconsciously in a comfortable and caring environment.
WHAT EXPERIENCE DOES DR. STEVE NGUYEN HAVE IN CARING FOR DENTAL PATIENTS?
Dr. Steve Nguyen is a Board Certified Dentist Anesthesiologist, meaning he is both a licensed dentist as well as a certified anesthesiologist. With 20 years of patient care, he has the knowledge, education, and experience to provide superior services for both pediatric and adult patients. As a Dental Anesthesiologist, Dr. Nguyen has performed over 7,000 cases of general anesthesia safely, without sequella. In addition, he has done numerous IV sedation cases.
Dr. Nguyen's training began at the United States Army Medical Department in Fort Sam Houston, San Antonio, and over the years he has received over a dozen awards, medals, and ribbons including a Global War on Terrorism Service Medal for Operation Enduring Freedon.
Dr. Nguyen received his General Anesthesia certification from Metro Health Medical Center of Case Western Reserve University, and his Doctor of Dental Surgery from the University of Texas Health Science of San Antonio. From 2011 to 2014, Dr. Nguyen was Ohio State University's Residency Program Director of Dental/Maxillofacial Anesthesiology. He is a Staff Anesthesiologist at both Nationwide Children's Hospital and OSU's Medical Center in Columbus, OH. He is an Advance Cardiac Life Support Instructor at Metro Health Medical Center in Cleveland, OH. Dr. Nguyen is the President-Elect of the American Society of Dentist Anesthesiologists, and is a Diplomate of the American Dental Board of Anesthesiology.
HOW DOES IN-OFFICE ANESTHESIA COMPARE IN COST TO AN OFFICE VISIT?
Did you know that the costs associated with in-office dental anesthesia are a fraction of the fees charged in a hospital setting? General anesthesia performed in our office, depending on the length of the procedure, costs several hundred dollars, versus thousands of dollars typically associated with a hospital stay and operating room fees.