INVISALIGN IS THE WORLDWIDE LEADER IN ALIGNER TREATMENT AND TAKES A MODERN APPROACH TO STRAIGHTENING TEETH.
We take 3D scans of your teeth to create a series of custom-made aligners for your one-of-a-kind mouth. With these scans, our dentists are able to avoid the use of uncomfortable molds to capture an accurate image of your teeth. From there, each prospective tooth shift is carefully mapped out, creating a custom road map to your winning smile.
All you have to do is wear your aligners according to the plan your dentist has set for you. No longer do you have to deal with uncomfortable metal brackets and wires or alter your diet. Invisalign aligners are smooth, comfortable and virtually invisible. Since they fit snugly over your teeth, you can continue life as usual eating all your favorite foods, brushing your teeth as normal, and not having to weave around braces when you floss.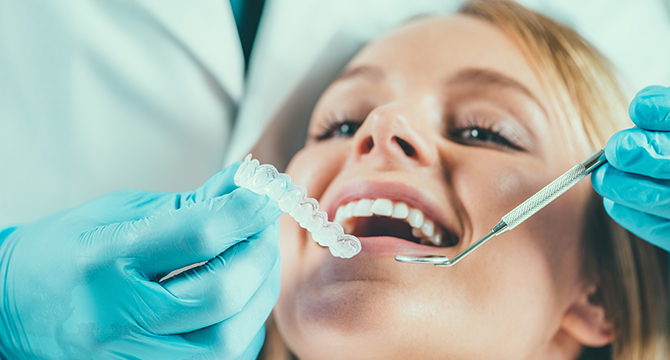 INVISALIGN FOR KIDS, ADULTS & TEENS
Since Invisalign is customized to the unique needs of the patient, kids, teens and adults all may be good candidates for Invisalign invisible braces.
Read about the Top 10 Reasons We Love Invisalign for Adults!
Read about the Top 10 Reasons We Love Invisalign for Teens!
THE INVISALIGN ALIGNER SYSTEM HAS HELPED OVER SIX MILLION PEOPLE ACHIEVE THE SMILE THEY WANT.
Whether you have an overbite, underbite, cross bite, crowded or spaced teeth Invisalign can help.
When it comes to ensuring that children are wearing the trays as recommended, roughly 22 hours each day, Invisalign features a unique and discreet blue-dot compliance indicator. This indicator dot fades as each aligner is worn as needed. The regularly scheduled appointments will be every six-to-ten weeks depending on your treatment. This means fewer in office visits and disruptions to your schedule than with conventional braces
Our certified Invisalign doctors will monitor your case to ensure an excellent result. Youll achieve a great smile with little interference in your daily life.
With offices in Amherst, Orchard Park and Buffalo, Winning Smiles makes it easy to set up your consultation for Invisalign braces. Call today!