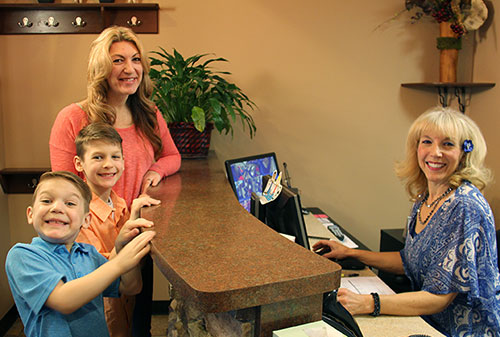 My First Visit
New parents often ask, "When should I bring my child to the dentist?"  The short answer is, "By Age 1."
The idea of such an early dental visit is very surprising to many new parents. To assure you, The American Academy of Pediatric Dentistry, and Dr. Mike, suggest that children be seen by age 1 due to early childhood carrying such significant diseases among very small children. The Academy changed their recommendation from going to the dentist 6 months after the first tooth has erupted from the gums to by age 1 to get more information to parents sooner about how to properly care for their childrens teeth. More than 1 in 4 children in the United States has had at least one cavity by the age of 4. Many kids get cavities as early as the age of 2!
For more information please see:  https://www.aapd.org/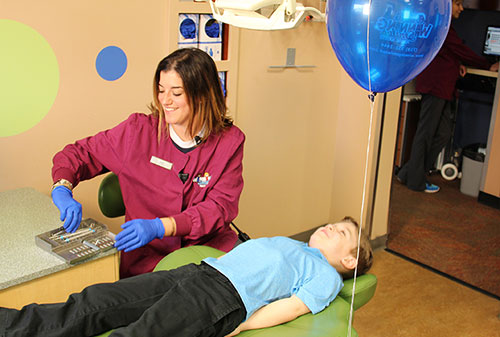 Protect your child's teeth by starting dental checkups early!
To prevent potential dental problems, your child should see us as soon as the first tooth appears, or no later than their first birthday.
The American Academy of Pediatric Dentistry and the American Academy of Pediatrics both recommend all children have their first dental visit by age one. Why?
Baby teeth are more porous and susceptible to decay than adult teeth. Early intervention is critical to help ensure those tiny teeth stay healthy.
Pediatric dentists are trained to immediately identify any potential issues with the growth and development of the jaw and soft palate.
Healthy primary teeth help your child speak and chew properly.
Primary teeth serve as important place holders for the eventual permanent teeth.
It is best to have your child first meet the dentist at a well-baby check-up, do not wait until an emergency for a first visit.
Our team will provide a relaxing environment for your child.
Your child's FREE first visit to Winning Smiles includes:
  A gentle, but thorough, exam of the teeth, jaw, bite, gums, and oral tissues.
  A gentle cleaning, including polishing of the teeth and removal of any plaque, tartar buildup or stains.
  Instructions on proper home care.
  Answering any questions you may have.
  Your child typically sits in your lap while our dentist does the examination.
If your child cries a little or wiggles during the exam, don't worry – it's normal. We understand this is a new experience for your child!
Find answers to our most frequently asked questions.
WHAT IS THE DIFFERENCE BETWEEN A PEDIATRIC DENTIST AND A FAMILY DENTIST?
Pediatric dentists are the pediatricians of dentistry. A pediatric dentist has two to three years specialty training following dental school and limits his/her practice to treating children only.
HOW CAN I PREVENT DECAY CAUSED BY NURSING?
Avoid putting nursing children to sleep or putting anything other than water in their bed-time bottle. Also, learn the proper way to brush and floss your child's teeth.
ARE BABY TEETH REALLY THAT IMPORTANT TO MY CHILD?
Primary, or baby, teeth are important for many reasons. Not only do they help children speak clearly and chew naturally, they also aid in forming a path that permanent teeth can follow when they are ready to erupt.
TOOTHPASTE: WHEN SHOULD WE BEGIN USING IT AND HOW MUCH SHOULD WE USE?
The sooner the better! Starting at birth, clean your childs gums with a soft infant toothbrush or cloth and water. Parents should use a tiny smear of fluoride toothpaste to brush baby teeth twice daily as soon as they erupt and a soft, age-appropriate sized toothbrush.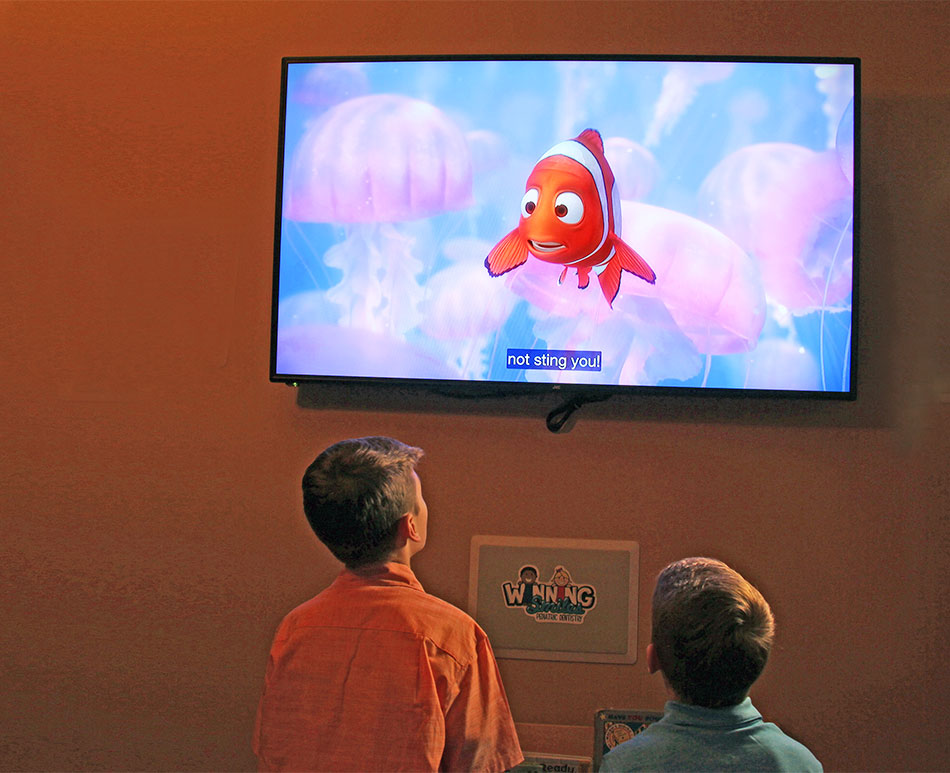 From the First Visit to Our Terrific Toddler Program
We complete a knee-to-knee exam and cleaning. Your toddler sits comfortably on your lap while our experienced staff clean and examine their teeth to gauge tooth development and any early signs of decay. In this way, we can gently introduce them to the office setting in a private and comfortable environment and also proactively work to resolve any early issues.
To prevent early childhood cavities, parents should investigate their child's risk of developing cavities, and the variables involved. At their child's first visit, they may also learn how to manage diet, hygiene, and fluoride to prevent problems.
The terrific toddler program offers parents a forum to discuss:
  How to care for an infant's or toddler's mouth
  Oral habits, including finder and thumb sucking
  Teething and milestones of development
  Proper use of fluoride
  Ways to prevent accidents that could damage the face and teeth
  The link between diet and oral health